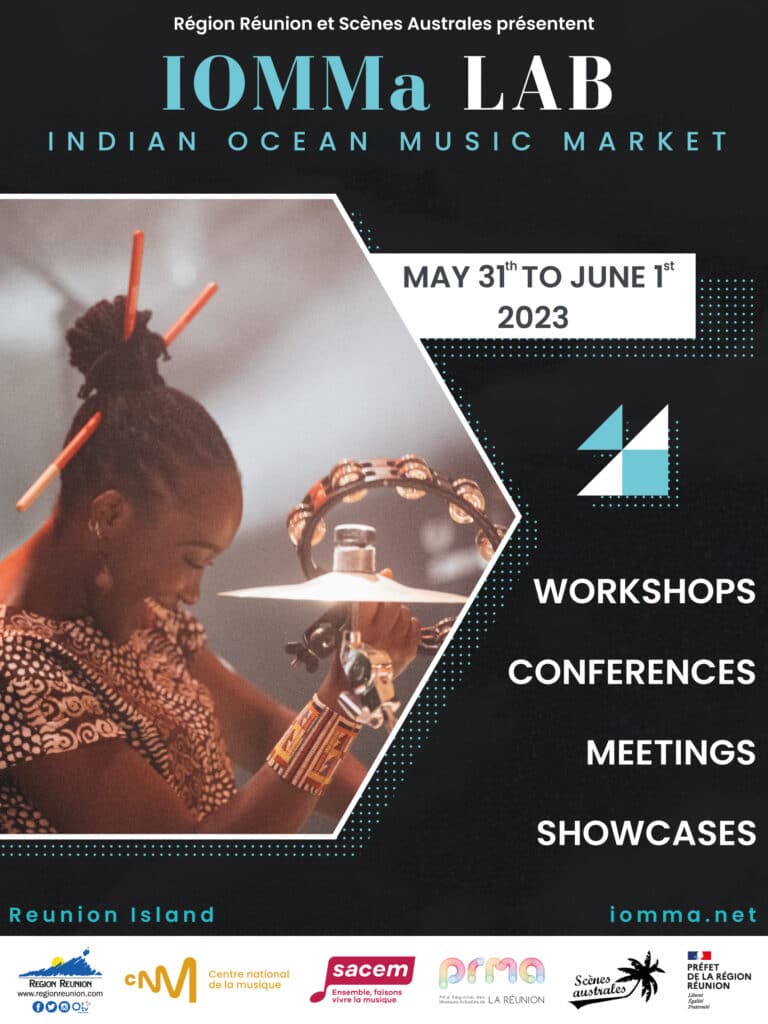 Business meets Creativity​
The most important music market of the Indian Ocean area
Thanks to the success of previous editions, the IOMMa consolidates his position as the first platform for the Indian Ocean music industry. Our market promotes exchanges, encounters and the emergence of opportunities between artists and professionals from the Indian Ocean, while building connections with operators in the music industry from Europe, Australia, America and Asia.
Scenes Australes organizes, with the support of the Region Reunion, the PRMA, the CNM and the SACEM the IOMMa LAB. It is a time of meetings and think tank reflection on the challenges of the music sector, it will be held from May 31th to June 1er 2023 on Reunion Island. While waiting for the 10th edition in 2024, the IOMMa LAB continue the mission of the IOMMa in supporting the professionnalisation of the music industry and the networking between operators thanks to brainstorming sessions and meetings.
Indian Ocean's finest acts
Since 2011, more than 220 groups from Reunion Island and all over the Indian Ocean have performed in a 30 minutes showcase in front of an audience of professionals and amateurs. The call for applications will open next October for the 2024 edition. Access to the concerts is free and open to the public. The artistic program is representative of the music of the Indian Ocean.
A series of meetings in the form of conferences/workshops was held, in which a panel of professionals discussed common issues of the music industry in the area, and offered solutions to improve the conditions for Indian Ocean artists.
Opportunities to be seized
Local professionals and/or artists have the opportunity to meet with professionals from other areas (promoters, labels, producers, managers,…) during a face-to-face appointment.

Each professional will be available for two hours, with a maximum of 15 minutes per meeting.